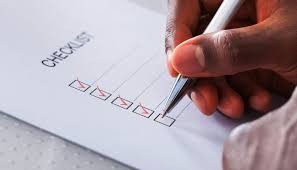 In many small business environments, the ending of the year is like a financial reckoning. There's a certain uneasiness that comes right before the new year as many business owners scramble trying to determine if you've paid enough taxes throughout the year or if you'll be slapped with a large tax bill in the Spring. In addition, determining whether you've met your financial goals and projecting how much revenue you can earn in the next year.
To put it simply, the end of the year can be overwhelming for small business owners.
For our new clients, we help ease that uncertainty with a road map and a checklist to help them chart the tasks for which they're responsible to prepare for the year-end financial review. We also meet with you to assess their current financial situation, set goals, and map out a clear plan to achieve your goals. Then, we partner with you every step of the way to ensure these goals are reached.
In our nearly a decade of providing these financial services to our clients, we realized there were some important tasks all small businesses and organizations should tackle at the end of each year. In that spirit, here are our top five things small businesses should do at the end of the year:
Ensure Your Financial Books in Order
For many small businesses, this is really difficult task while for others it's an easy one. Whether you're a solo entrepreneur with receipts stuffed in a shoe box or a small business owner who has a bookkeeper on your payroll, it is imperative to get this done first. You have to have clear understanding of how much money you've earned and the sources of those funds as well as how much you've spent and on what. Using an accounting system, such as QuickBooks, should help you make this transition a breeze.
Determine Financial Position
The next step on your small business year-end checklist is to determine where your business stands financially. To do this, we recommend examining the following three items:
 Review Current Financial Statements. 
By reviewing your current financial statements, you will be able to determine how well your business is doing and what steps you need to take to improve or grow.
Analyze Your Goals.
After examining how well your business is doing, it's time to take a look at how it got there. Think about the goals you set for this current year and determine whether you've met them. Review your business plan and any other planning documents analyze this past year's goals. Then, answer the question: Did your business accomplish what you set out to do? Why or why not?
Evaluate your current tax strategies.
Next, take a look at your current tax strategy. Are you paying taxes on a monthly or quarterly or yearly basis? What expenses are you deducting? Are you claiming too many write-offs or not enough? Is this approach working? Is it easy for you to maintain? We recommend speaking with bookkeeping, tax, or accounting professionals to get solid guidance about which tax strategy would be best for your business circumstances.
Need help finding a professional who can help? We know just the right people.
Prepare Your End-of-Year Tax Statements
This is important.
You need to be sure you have the right documents in order before you begin trying to prepare your year-end tax statements. For many businesses, having an accountant prepare their income tax returns is the most reasonable option. However, to get the job done right, your tax accountant or tax preparer will need to have the right tax records on hand ahead of time. Some common forms are income statements, balance sheets, and cash flow statements. You can even use receipts, payment records, or other records that show how much money you've earned and how much you've spent.
Review Inventory
For those who sell products, conduct an inventory assessment and compare the results to your last inventory report. Make any necessary adjustments so that you have an accurate account of how much capital you have in your current inventory. Even if you don't necessarily sell products, it can never hurt to take inventory of elements in your office, such as equipment, computers, office supplies, etc. Make a list of any broken equipment or equipment in need of repair.
Set Next Year's Goals
Now that you've done all the basic financial assessments, you're ready to do some business planning. This can be done in three easy steps:
Step 1: Set next year's goals.
Step 2: Prepare an action plan.
Step 3: Start implementing your action plans.
Seems simple, right? Work with your accounting professional to set your goals and action plan and the necessary steps for the upcoming year. This is the time to be clear minded about how you can achieve your goals.
We hope this checklist was helpful to you.
Still need some support? Call us at 901-451-4240 to schedule a free discovery session.
Happy Planning!